| | |
| --- | --- |
| Family Details | Return to family tree here |
Generation No 8
Family -Member
26. Cyril Victor John PALMER-8 (William Cyril Francis 'Bill'-7, Albert Edward-6, John-5, Robert-4, William-3, Thomas-2, John-1) was born on 11 Feb 1927 in Portishead, Somerset, England. He died on 09 Oct 1989 in Portishead, Somerset, England. He was employed as a Retained fireman. He was employed as a Funeral director.. He was started workas a builder and then set up his own business as a builder, plumber, decorator.
Military service: 1947, 4th Battalion Wessex Parachute Regiment
Cremated at Bedminster Down Crematorium, after a service at St Peters Church, Portishead. His ashes were spread along the Gordano Valley on Thursday 26th October.
Phyllis Gwendolyn Annie VOWLES daughter of Charles Henry 'Harry' VOWLES and Annie HALL
was born on 02 Jul 1927 in Sandford, Weston-Super-Mare, Somerset, England. She died on 12 Oct 2009 in Portishead, Somerset, England. She was employed as a Part time secretary for CVJ Palmer Building, Plumbing & Decotating'.
---
Marriage Details
Cyril Victor John PALMER and Phyllis Gwendolyn Annie VOWLES were married on 02 Apr 1949 in St
Marys Church, Portbury, Somerset, England.
Parents
Census Details
Children

Children of Cyril Victor John PALMER and Phyllis Gwendolyn Annie VOWLES are:

| | |
| --- | --- |
| | Son |
| | Son |

---
Notes & Photos

Photos of Cyril above: Cyril & Phyllis's wedding below.
More Photos & Notes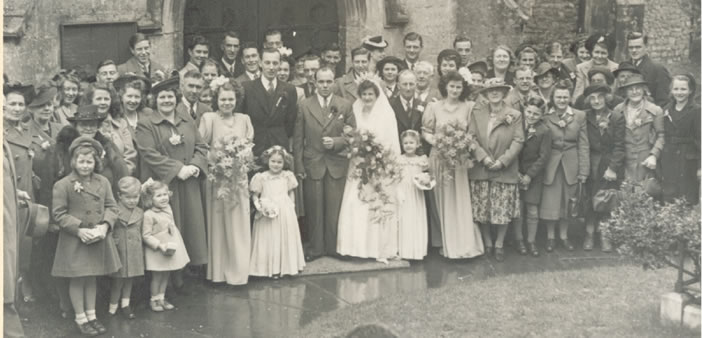 During his early teen years Cyril was brought up by his his Auntie Ellen (Nell) and Uncle Ernest (Ern) with their son John in Ashton, Bristol. Cyril's cousin Betty was also brought up by by Nell and Ern due to changes in the family circumstances. No reason for Cyril living with his cousin could be found for many years. In 2015 a cousin who knew the reason for Cyril not living with his mum, told the story quite by chance to my brother, not knowing that we didn't know the story. William, Cyrils' dad was working in a munitions factory in Bedminster and living in one room in Bedminster with no space for his family. Cyril's mum Amelia was living in a similar small space in Portishead with Cyril's two sisters. The girls had to literally sleep on the sofa thus there was no room for Cyril. Nell and Ern took him in to their house and He therefore spent a number of the war years being brought up alongside his cousins John and Betty. In 1945 he was drafted into the 4th Battalion Wessex Parachute Regiment. He travelled across France by train just after the Second World War to serve with his regiment in Palestine. This was a 'policing action' and he made several parachute jumps in Palestine during his two years of 'National Service'.
He started work at the age of 14 as a trainee on the building side of the company run by A Haliday, a Portishead Funeral Director (1941-1957). He then joined the local council working as a general workman for Portishead Urban District Council (1957-1962). He then set up his own business as a builder, plumber and decorator in the Portishead area. His business was essentially a one man operation, but at times he did employ one or two workmen (1962-1986). During the 1970s he went into a partnership as a Funeral Director for a short time.
Cyril was a retained fireman at Portishead rising to the rank of 'Sub-Officer'. He served for over 30 years as a fireman attending a wide range of fires and accidents. These included a forest fire on the Mendip Hills which lasted for several days, rescuing a cow from a ditch and attending accidents on the M5, along with many hundreds of chimney fires! He undertook a lot of fund raising activities for the 'Fire Service Benevolent Fund'. His unstinting work in this area was recognised by his invitation to a 'Garden Party' at Buckingham Palace in 1987. He was awarded the 'Gold Certificate' by the Fire Brigade on the 3rd October 1989 just six days before he died.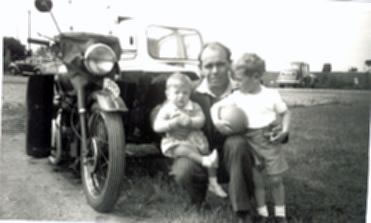 Portishead Fire Service. Cyril Palmer is front row, second from the right.
Links: Visit Mike Sainsbury's research at Rootsweb here